Connect AI Powered Support Bot by RPAiX
Using the most advanced AI powered support bot in the world, you can speed up customer resolutions and automate conversations in less than a minute.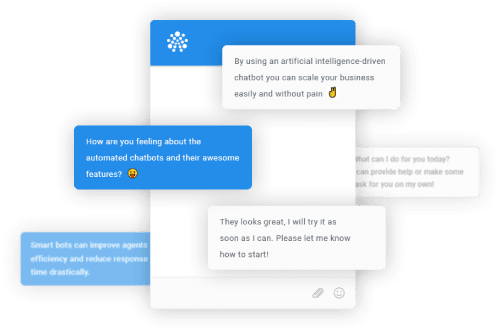 As a virtual agent, the bot will respond to visitors' messages when it knows the correct answer. However, if the bot cannot find the right answer, a human agent will be informed, respond to the message, and take control.
Automated communication

Easy 30-second installation
Custom bot reply delay

Human-like conversations
Making the first steps to creating a chatbot may seem daunting. Dialogflow offers several ready-to-use templates for chatbots that can answer general questions.
More than 45 templates

Automatic replies to general questions
App Management

Banking

Car

Coffee Shop

Alarm and Reminders

Currency Converter

Date

Device

Dining Out

Event Search

Traffic

Translate

Unit Converter
FAQ

Flights

Food Delivery

Formats

Hotel Booking

Job Interview

Jokes

Language Settings

Local Services

Maps

Mobile Accounts

Video

Weather
Music

Navigation

News

Online Shopping

Radio

Support

Restaurant Booking

Smart Home

Television

Time

Tips Calculator

Web Search

And more ...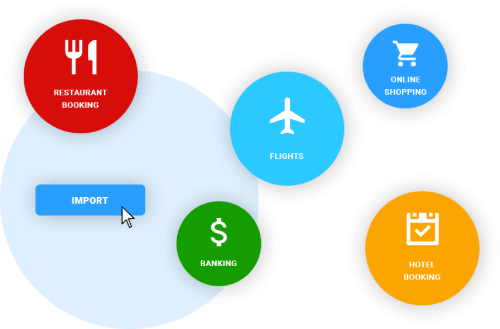 Train ChatGPT on Custom Data
Elevate your customer engagement game with Chat.RPAiX + OpenAI + Dialogflow on steroids – a truly transformative solution that brings a new dimension to AI-driven interactions.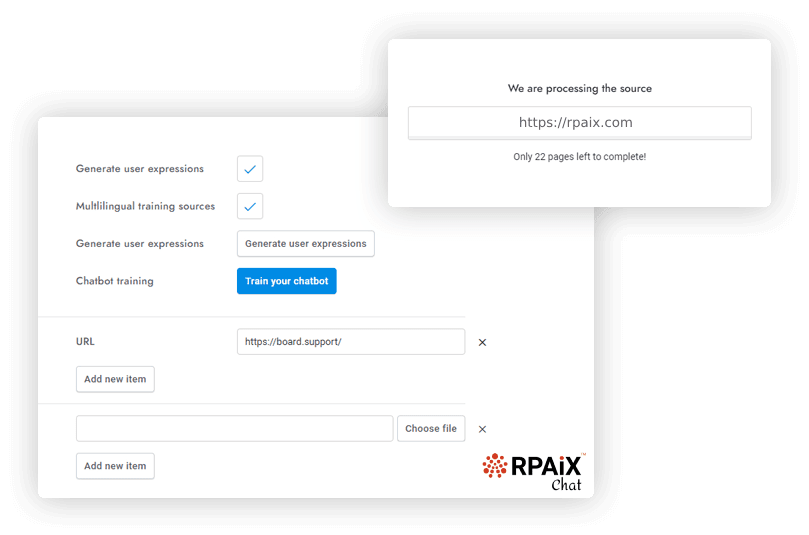 Chat.RPAiX + OpenAI + Dialogflow on Steroids!
Enhance your Chat.RPAiX chatbot's capabilities with our custom data training service. We tailor the chatbot to understand your industry-specific language, ensuring accurate and personalized interactions. Leveraging Dialogflow and OpenAI, we fine-tune responses to match your brand's voice and address user queries effectively. Elevate your customer engagement with precision and expertise.
Chatbot Training on the Fly
You can improve the bot's performance by answering questions and providing real-time answers. For example, with just one click, admin users can send questions to human agents and provide new answers to the bot.
Include multiple user expressions

Have your agents train the bot
Rich Messages and Surveys
The RPAiX support bot has the same functionality as a human agent. It can send attachments and rich messages, surveys, and media. These are all easy to add to the bot's message.
Rich messages as shortcode

Attachments and media
Surveys

10+ rich message types
Why Dialogflow Integration? Why Not an In-House Solution?
Artificial Intelligence is the power behind the best chatbots. Only a few AI Labs can provide real artificial Intelligence. We aren't trying to outdo them; we consider them our friends. We believe that AI bots should have the ability to think for themselves. Dialogflow by Google helps us achieve this goal for our Support Chatbot platform.

RPAiX support chatbot  is always under the control of humans. You can take control of a conversation if a bot does not answer. Agents are only alerted by the bot when needed using various methods.
Multiple human take over methods

Notifications only when needed
User confirmations

Other options
The RPAiX chatbot can read WooCommerce shop contents using the AI of Dialogflow and the structured data from WooCommerce. It can then provide relevant answers. For more information about this feature, click the button below:
Google Assistant and Knowledge Base
Your RPAiX support chatbot can gain additional knowledge to enhance its superpowers. For example, the bot will automatically use your Knowledge Base questions and answers, Google Assistant articles, or RPAiX Support Chat articles.
Google Assistant

Dialogflow Knowledge Base
RPAiX Support Chat articles
Your support bot can engage in conversation with humans-like quality using state-of-the-art artificial Intelligence. In addition, the bot can interact with users at all levels using data and machine learning.
State-of-the-art artificial intelligence

Human-like conversations
Omnichannel: Works with Telegram, Facebook, and More
Support chat allows seamless connections to all major messaging platforms, including Facebook Messenger and Telegram. It also supports rich messages across all platforms.
Compatible with Facebook Messenger and Facebook Workplace, Telegram, Slack, LINE, and Google Hangout
You can check for missing questions, track the total number of chats you have, and view sentiment analysis. In addition, you have access to data all day, which allows you to fine-tune and improve your bot every day.
Broad set of reliable reports

Checks missing user questions
Sentiment Analysis

Total number of bot chats
Google Search and Spelling Correction
Your RPAiX support chatbot can search Google for answers and visit your website via Google search. It will also be able to correct misspelled questions. It all works automatically.
Chatbot replies from Google and your website

Corrects misspelled user questions
Your support chatbot allows your chatbot to perform actions for users, like opening emails, changing departments, or even changing articles. To see the complete list of actions, click here.
More than eight actions are available, and more are coming soon

Allow the bot to act on behalf of the user
Support for Dialogflow CX & ES
Dialogflow CX and Dialogflow ES can access all features on this page.

Additional Features
Below are some of the cool RPAiX support chat features. Each feature is intended to enhance your chatbot's capabilities.